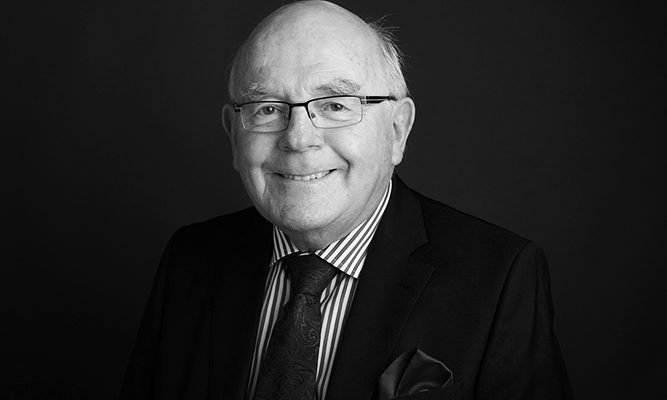 Michael Greene, (Co-Founder  of Cry Ireland along with his wife Marie) is standing down as Chairman after 18 years of faithful service in a taxing role that he dedicated his life to, but he will remain on as an active Board Member.  Michael and the organisation he co-founded, has raised the issue of Sudden Adult Death in Ireland, creating awareness the need for proper, accessible screening, advice and support, and contributing to critical research into the causes of sudden death in young adults.
A small acknowledgement of Michael's time and achievements as Chairman:
Michael has been driven on since his son Peter's death in June 1996 .  Michael is very private and modest about his incredible commitment and dedication in setting CRY up.
It is estimated that between 60-80 people between the ages and 1 and 35 die of sudden cardiac death (SCD ) every year in Ireland, which has a devastating and life-altering effect on their families, friends and communities.
Michael and Marie founded Cry Ireland in 2002 and their aims were to:-
Raise awareness of cardiac risk in the young
Support a National Screening Centre for families to be evaluated
Provide counselling and support to families affected.
All of those aims have been met – culminating with the official opening of the CRYP Centre on 10th November 2008.
Michael motivated numerous people to advance the cause and assist him in plans  – from very humble beginnings to forming a Committee of Trustees, motivating a group of Volunteers, forming a Fund Raising Committee to name but a few.  Over the years he has motivated so many people to advance the cause he passionately believes in and has been the driving force behind several initiatives.  He has also ensured the financial success of these by arranging major fundraising events and enlisting the support of individuals and companies for evenings like #Pure Style which has run for the past 9 years and was named in 2016 as Dublin's Best Ladies Lunch.
The opening of the Centre was a major achievement and his drive never lessened over the years.  CRY is a partner in the Centre for Cardiovascular Risk in Younger Persons located in Tallaght Hospital.  The Centre is staffed and run by a Consultant Cardiologist, Clinical Nurse Specialist, Senior Cardiac Physiologist, and Administrative Support.   Michael continued to fundraise, promote CRY, raise awareness to ensure that the screening and support services are FREE TO PATIENT regardless of circumstances – something that he always insisted on – he never wanted anybody to feel it was beyond their reach.
Since beginning operation in 2007 approximately 5,500 individuals have been seen at the Centre at over 10,000 patient appointments.  Patients and families have travelled from all corners of Ireland and availed of the service.  Over 2,00 families have benefited from the service with in some cases 20-30 family members attending for assessment.
Lucia Ebbs
On behalf of Cry Ireland
Colleagues and Friends have said:
Dr. Deirdre Ward, Consultant Cardiologist
I think it is safe to say that without the enormous efforts of Michael (and Marie) Greene, we would not be celebrating the 10th anniversary of the Centre  for Cardiac Risk in Younger Persons (CRYP) in Tallaght Hospital. Without them we would not have been able to investigate, treat and reassure over 7,000 individuals, and be planning for expansion to see even more in the near future.
Michael has worked relentlessly over the last 15 years to lead the CRY charity to its current position as a small but stable and mighty force providing invaluable emotional support to individuals and families affected by sudden cardiac death, as well as investing over 1 million euro into the development and running of the CRYP Centre. Michael has always maintained an optimistic outlook, even in the most trying circumstances. His dogged determination has led the charity through tough times in the economy and the charitable sector. I have learned many skills from observing his quiet but steely diplomacy in tough negotiations.
It has truly been an honour to work with Michael and the CRY charity over the last 14 years, and to serve as a Trustee under his Chairmanship. It is a testament to his character and his integrity that I am proud to count him now as a family friend, despite his passionate and vocal love of Munster Rugby!
A message from the O'Mahony Family in Clonmel
Congratulations on your retirement Michael and on your exemplary vision in founding CRY and working so tirelessly to progress, encourage and console those of us who have lost a loved one.
You came to our aid as a family through you tireless dedication, and helped us to channel our lives to remember our son and brother Conor in a meaningful and positive way.
You came and spoke to us and our friends when we celebrated  our fundraising for CRY and  you were present when the book 'Forever Young' was launched and spoke so eloquently on what CRY was doing to protect  and ensure the health of our young people who are at risk. Your message was always loud and clear and heartfelt.
We are proud to know you and will be eternally grateful for the health care and council CRY had afforded to our family. You were and are an inspiration.   May all the years ahead bring you great joy and relaxation.
Happy retirement!
Brendan O'Mahony, Margaret O'Mahony,
Fintan  O'Mahony Aine  Alice, Lucy, and Nora.
Kevin O'Mahony, Ciara, Cian, Niamh, and Aidan.
Brian O'Mahony and Jenny.
Fionnuala Kelly, Trustee of Cry & friend of Michael & Marie said;
I would like to pay tribute to Michael for his sensitivity, hard work, understanding and tenacity, even in the face of adversity;.  He has worked tirelessly to create a national Centre embracing people from both the North and South  and at some cost to his health.  It is with the greatest respect that I salute Michael for his lifetime's achievement and wish him every success in the next stage of his life.
Liam & Marie Herlihy, Co-Organisers with the O'Donovan-Scanlan family of #Monagea – Remembering Niamh and Darra was quoted as saying;
Following the sudden death of our daughter Niamh in April 2011 ,we were in limbo until we were contacted by Michael Greene.
He put us in contact with the Centre and they have  given us huge support ever since our two sons have been screened annually which has been a  great comfort to us.
Michael has given all his time to C.R.Y. over the last 20 years.
Thanking you,
Liam and Marie Herlihy