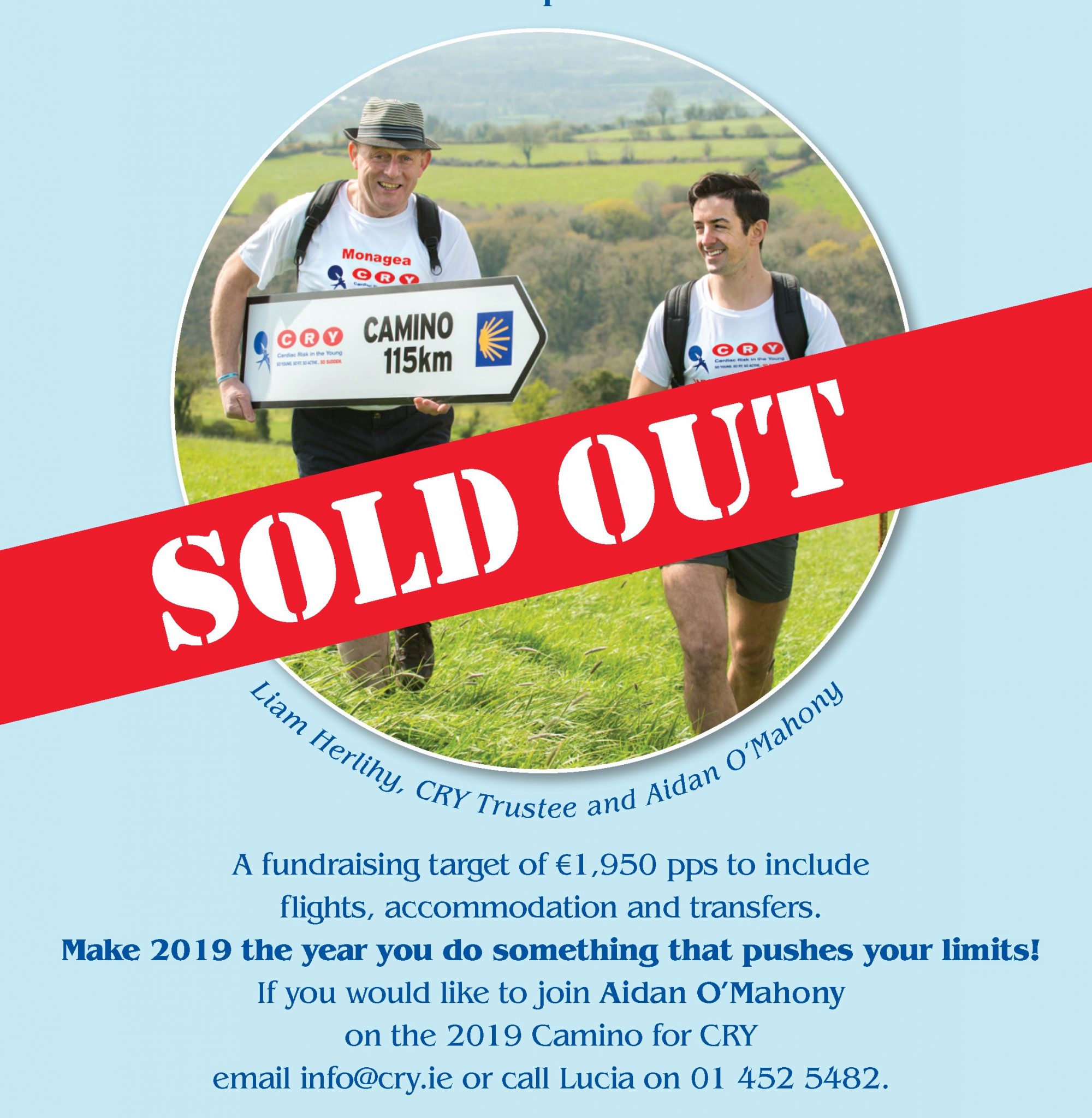 ** SOLD OUT** Cha-cha the Camino for CRY with Aidan O Mahony
---
** THIS EVENT IS NOW SOLD OUT**
23rd July 2019
We are delighted to confirm that our 2019 Camino trip is SOLD OUT!
With our Ambassador Aidan O Mahony we head to Oia on 7th September to walk the fabulous Portuguese Coastal Way to Santiago de Compostela.
Countdown on now for #teamCRY.
*****************************************************************************************************************
Cha-cha the Camino for CRY with Dancing with the Stars and GAA legend, Aidan O Mahony
7-14th September 2019
We're delighted to announce five-time All-Ireland winner and the country's first winner of Dancing With The Stars, Aidan O'Mahony has joined #teamCRY and is walking the Portugese Coastal Route with us from 7th to 14th September.
"It is an honour for me to take part in the Camino Trek and to be an ambassador for such an important and worthy charity. Sudden Cardiac Death (SCD) has affected so many families in Ireland including my own. The provision of CRY's supports and services to patients and families who have experienced a loss to the condition are exceptional.

"As I am a representative and advocate for healthy living and well being, the Camino Trek is a very positive event to be part of as it symbolizes my passion for outdoors and fitness. I am very grateful to undertake the challenge of the Camino Trek for seven days in September with #teamCRY.

All-Star Kerry Footballer Aidan O'Mahony
The Camino is a walk anyone can do, this year CRY will walk The Portuguese Coastal Way and the added bonus it is for a great cause and those who sign up are asked to raise €1,950 to take part.
Make 2019 the year you do something that pushes your limits!
If you would like to join Aidan O'Mahony on the CRY Camino Trek send an email to info@cry.ie.
Visit www.followthecamino.com to learn more about The Camino Trail.
A little about this year's Route:
The Camino Portuguese Coastal Route -one that's been growing in popularity among modern pilgrims.
• Following the coast around to the Vigo estruary
• staying in the beautiful coastal cities of Baiona and Vigo
• re-join the traditional Camino Portuguese from Redondela to Santiago de Compostela.
• (known for its seafood, in particular its oysters and scallops. Wash it down with the local albarino wine a true gastronomic delight).
• follow boardwalks and coastal footpaths, stop and swim on some of the nicest beaches in Europe.() Check out the Cies Islands, Playa Americanos, and charming Baiona.
• From Pontevedra, turn inland, trekking intermittently through forests whilst progressing gently uphill to reach your final destination – Santiago de Compostela!
What's included:
The 8 day, 7 night trip includes the following:-
• Return flights from Dublin to Santiago de Compostela
• Transfers and luggage transport (1 piece)
• Twin sharing accommodation in 2 or 3 star hotels (single room supplement applies)
• Breakfast and Evening Meal
• Guide
• Cry Representative Lucia Ebbs will walk with the group.
A fundraising target of €1,950.00 pps to include B & B, flights, a guide and transfers – for more information please email info@cry.ie or call Lucia on 01 4525482 or 087 753 7553.
A non-refundable deposit of €250.00 required. Visit www.followthecamino.com to learn more about The Camino Trail.
Pictured below are Liam Herlihy, CRY Trustee and Aidan O'Mahony.