Wake in the West Cheque Presentation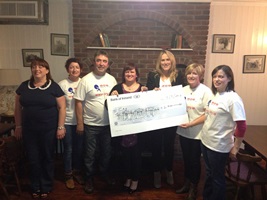 The Menlough Drama Group performed the comedy play "Wake in the West" on Saturday 1st June in Monivea Community Centre in aid of Cardiac Risk in the Young. The play was a great success and received glowing reviews from the local community. They raised €2,700 for CRY and presented the cheque to the CRY representative Orla Durkan in McGanns pub in Monivea over the past weekend.
Therese Blade, who performed in the play, is married to Pat who lost two brothers- Johnny and Thomas- to Sudden Adult Death Syndrome. There were 11 siblings in the Blade's immediate family and the remaining 9 children and their own families have all attended the CRYP Screening Centre in Tallaght Hospital. The Blade family would like to thank all of their family and friends and particularly the Menlough Drama group for all of their support at this fundraising event. CRY would like to thanks the Blade family and the community of Monivea for all of their support.
---