Conor Arrigan and The Tralee International Marathon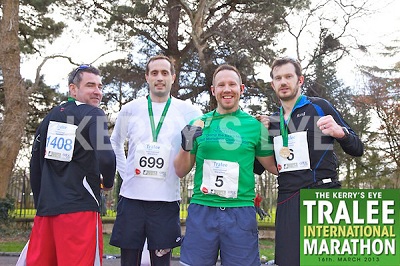 Saturday 16th March 2013 saw Conor Arrigan take on the challenge of the Tralee International Marathon along with his brother Michael Arrigan and friends Dave McArdle and Nick Wright.
Conor and Michael lost their brother PJ to SCD. PJ died aged 38 on the 18th of March 2010 and the lads chose to mark the anniversary by completing a marathon in his memory. Michael is UK based and chose to fundraise for Cry UK.
They had great support, the ladies of Kilamery Bridge Club hosted a charity night and raised over €700.00. In total almost €6,000.00 was raised, Conor chose to donate his monies - almost €2,800.00 to Cry Ireland - huge thanks from all in Cry Ireland.
Conor and Michael greatly appreciate the support of family and friends - particularly Dave and Nick who not only helped out with the fundraising but went the extra mile with them - actually 26.2 miles! Well done to all.
---