CRY Camino 2014 by Brendan O'Mahony
Ring the Bells:
The first CRY (Cardiac Risk in the Young) Camino began on September 6th, when 15 walkers, met at Dublin Airport to fly to Santiago de Compostela in Galicia, Spain to walk the Camino Frances from Sarria to Santiago.
The mission was:

1. To walk the 110km of the Camino in six days...
2. To commemorate those we had lost: sons, daughters, sisters, nieces, nephews, god children.
3.To raise sponsorship for the work CRY do.
4.To raise CRY's profile on the life saving free service offered at the centre in Tallaght Hospital.

Pictured are the CRY group the Camino de Santiago : Back Row (left to right) - Brendan O'Mahony, Aileen Kennedy, Lucia Ebbs, Aisling O'Brien, Kate Farrell, Aveen Harkin, Lelia Gaffney, Marie Jones, John Connolly and Frances Jones. Front Row (left to right) - Martina Hogan, Rosemary Phipps, Sally Carney, Marian Finn and Aoife Farrell.

Day 1. The wheels on the bus ....

Following a flurry of introductions – most of us had not met before - the 'team' photo was taken and we waved our goodbyes and stepped on board the Aer Lingus 320 bound for Santiago. We are a motley crew. I suppose when you put a group of fifteen together, you will find myriad differences. It's to be expected. But we had one thing in common all of us had lost family members through SADS Sudden Adult Arrhythmic Syndrome. The flight was fine and after a bare two hours we were wheels down and gliding in to land at Labacolla Airport. I had a good look down as we would be walking part of the Camino past the airport in just six days time !
The bus that took us to Sarria, to begin the walk 110 km back the road was straight out of The Quiet Man. It smelled of school bus, Taytos, Mars bars and Limara! - If it was wine it could be described thus: Dampish with overtones of old Jeyes Fluid and hints of tannin, diesel and definitely a refined aroma of burning rubber. It wheezed uphill and then ran away with itself down the other side. We shouldn't have laughed because little did we know we would be doing the same within fifteen hours. The Bus was full of chat as the group got to know each other.
Sarria is the biggest town we'll see with 14,000 inhabitants. It's the starting point for the Camino. Like many pilgrims we choose Sarria because the distance from there to Santiago is 110 km and this qualifies us for the Compostela – the certificate in Latin recording the completion of the Camino. Our guide is Choos but she feels that it would be easier if we called her Maria. So we 'choosed' Maria We gather in the Hotel Arena in downtown Sarria. The hotel is small but clean and tidy and we each have our own room. I joined John O'Brien and Martina Hogan for a beer. They are brother and sister. John is as solid and friendly,he is walking the Camino to support Martina who lost her son three years ago. Martina is a tall elegant lady, an intensive care nurse and both she and John have wonderful Offaly accents. Martina lost her son Conor, the same name as our Conor who died in 2006. Conor Hogan died at home in 2011. In addition to the co-incidence of their names they both loved music, especially Bob Dylan, and both were guitar players. Amazingly Martina shows me Conor's picture and the verse on his memorial card. It the same verse that on our Conor's headstone Forvever Young by Bob Dylan.
May God bless and keep you always
May your wishes all come true
May you always do for others
And let others do for you
May you build a ladder to the stars
And climb on every rung
May you stay forever young. In a darkened bar in Sarria a silent tear is shed for both Conors.
But we have serious work to do. One hundred and ten kilometres of rugged and difficult Galician terrain is waiting. A walk through mountains and hills, crossing valleys over time worn old bridges, past ancient cruceiros (Pilgrim crosses 1000 years old) across fast flowing streams, through dry river beds, climbs up steep slopes and down the other side - toe crushing and a bugger on the calves. And all the time – hopefully – having the opportunity of meeting other pilgrims and of seeing the beauty of the Galician countryside. Much like Ireland – farmland with the strong smell of cow dung and farm animals. An opportunity to breathe in crisp mountain air – in through the nose and out the mouth - in synchronization with your legs and steps.
At dinner we have the first opportunity to speak to Lucia who works with CRY. Diminutive in size, big in heart. Lucia is here with her sister Kate – mammy of the group - and her niece and god daughter Aoife, the baby of the group. Aoife will constantly sustain the will of the group to keep us going, filtering up and down the line, chatting in her Dublin drawl and taking a million photos. On the 22nd of May 2002 Lucia's niece Jenny O'Riordan died suddenly Jenny (Jenny Jewel to the family) was Kate's and her husband Jerry's only daughter. Jenny had died from Cardiomyopathy on her father's 50th birthday. She had been sitting with her best friend Sinead O'Brien– looking at booking flights for a holiday. After dinner - Hake or pork Galician staples - we had a couple of beers – too tired for more than a couple - and then we turned in for the night. The mantra of the Camino is: Walk – Eat – Sleep!
Day 2: Walk the walk: Sarria to Portomarin

There's a lot of spoof about 'team bonding' and motivation nowadays. It was noticeable at dinner the last night that there was a distinct feeling that all of us had the same goal and the same plan to walk the Camino. We were in this together. No need for motivation speeches. The little marks of co-operation, the quiet sub chats between the fifteen of us, stories shared quietly, a heavy bag shifted for older pilgrims (me), where we were from – the Irish 'oh Roscrea' my sister used to work there. The team was being built. The determination that we are all in this together was evident. There was no need of and Alex Ferguson's hairdryer shouting in our faces or Kieran Fitzgerald's 'where's yere f***in' pride' or a motivation guru to tell us how to co-operate.
The next morning it was evident. First names were now being used 'Are you Marie or Aveen?' 'Yes I have taken my tablets' 'I'm from Ringsend' and the 'No I've never drank coffee in my life is there a cuppa tea?' 'This bread is as hard as the hob of hell – and no butter!' This omission was to cause a recurrent thorn in our sides until Marian from Ringsend applied a Dublin solution to a Galican problem (More later) Everyone was down to breakfast at 7.00 a.m., dressed for the road, cases packed, back packs at the foot of the table – money, sun cream (laugh! ), toes vaselined, bottles of water passed around. Breakfast was the de rigueur. Cheese and ham. It varied throughout the week sometimes were got ham and cheese and one morning we got no ham or cheese. There is a Welsh dish made from seaweed called lava bread but the lava bread served for breakfast had come from some Jurassic volcano and was clearly breakable only by the jaws of a T – Rex. I dispensed a 'nugget of wisdom' from my army (FCA 3rd. Motor Squadron) days so that we wouldn't march on an empty stomach.
During the Cuban Crisis in 1963, we were mobilised and sent to patrol the Comeragh Mountains to repel the imminent Soviet invasion. This would begin with and by attack Dungarvan, followed by an tank thrust over the mountains to take strategic Clonmel. Hah! but we would we waiting in the heather armed to the teeth with .303 rifles and five rounds of ammo. This was the nugget.
'Lads: Eat while ye can, sleep while ye can and pee while ye can even in a can.' So the rock hard bread was softened by dunking and a little slurping and we got on with it. Breakfast over, we gathered outside in the cold, murky, misty dawn – a few extra stretches were done. Maria handed out our instructions on how to find our hotel in Portomarin 23 km downrange. Down the street – we're the only humans moving – like Vanilla Sky with Tom Cruise.
A left turn and we were confronted with a hundred medieval extra height stone flag steps. The steps sorted the men from the girls. The girls surge ahead up past the Church of Magdalena. Marian Finn and her sisters Rosemary Phipps- the Ringsend Harries were away. Both were commemoration the loss of Marian's son Andrew and had his name embroidered on their CRY tee shirts. John and Martina decide to take up Maria's offer of a tour of the church and I forged on. A train passed nearby. In my mind I thought I could hear strains of Marty Pelo singing: 'I feel it in my fingers, I feel it in my toes.' The perennial Irish Metrological query 'Is that rain'. Then drops began to join up and in seconds it got very Wet Wet Wet. Not love is all around me but torrential rain. I have never seen such a downpour. The visibility dropped and the path through the woods turned to mud. Off came the backpack and the raingear came out. I was soaked before I could get it on. None of us expected the thunderstorm that was now raging over our heads. To distract, names of rain songs crept into our saturated brains: 'Rhythm of the Rain', 'Rain Rain go away come again another Day'. 'The Rain in Spain Lies Mainly on the Camino' brought us back to reality. 'I think this is down for the day' some clairvoyant said.
Thunderstorms form when an air mass becomes unstable when the air in the lowest layers is warm and humid, or that the upper layers are unusually cool, when they meet over the Galician mountains- boy are they unstable- Raging lunatics they are. They dump rain and now buckets of tepid water was being emptied on us. It was hard to walk, difficult to see, communication was nonexistent. Each of us walked with head down and got on with it. Maria, our guide, passed me and told me that our lunch 'was in a garden! What did she mean? She vanished into the fog before I could ask her. I spotted a barn off to my left. It was a roadside refuge set up by an Italian lady to give cookies and coffee with goat's milk to passing pilgrims. The payment asked was to make a contribution in a coffee tin.
Shortly after I set out again the group joined up at our morning coffee stop. The awning outside the restaurant was leaking, maybe it was yawning in awe at the rain. A man with a brush was spilling rain out of it by pushing the brush handle up into the belly of rain water in the middle. Everywhere was awash- tables, chairs, pilgrims, footpaths, toilets, bars – nothing was dry. I braved the rain and set off again towards our lunch stop which was in someone's garden? On the way downhill 3km on and into a village there was a barn in which walkers were sheltering from the rain. I took the opportunity of dry off a bit and then I saw the sign on the adjoining bar. Bar Mogade! Bar Mogade which was the 'my garden' I had misheard from Maria earlier – Shudda gone to earsavers!
It was lunchtime. All fifteen of us eventually arrived looking like ducks that had lost their feathers. Lunch was ordered. The ham omlette was nice with serrano ham and very orange coloured eggs and some Jurassic bread and weren't we glad of it. Then came the best news all day. The Bar was selling full length heavy duty ponchos. Any colour you liked as long as it was sky blue. At €8 each they were a snip. Elastic in the sleeves and neck and stretching down to cover our already drenched boots. We all suited up and looked like a gaggle of Sisters of Mercy Blue Nuns on the way to a hockey match dressed in habits of the team colours as we waddled up the hill. The more fit 'nuns' went off first. The famous five aka the Harriers - Marian, her sister Rosemary, Sally, Aileen and Lu flew the coop next looking like scarcely fledged sparrows. It was so wet Rose had put away the pink knitting which she took out at every opportunity. Marie and Aveen took off next followed by Martina, John, Ashling, Frances, Lucia, Kate and Aoife followed. Over the hill and down the other side to Ferrerios and A Pena. There were churches there that would stamp our Camino passports but it was too wet to take them out of the bag. My passport, in the pocket of my shorts was in a plastic bag but in the dampness, like a Galician roof tile, it had bent to the contours of my thigh! Would I have to face immigration with a bent passport? In the next stop I found a dry crisp bag, turned it inside out and sealed my passport into it. Now Immigration will have the aroma of cheese and onion to contend with.
By now the weather had deteriorated further. There were torrents of water cascading down the hills and pooling in the recesses at the bottom. Flooded cross roads up to a foot deep were forming and it was difficult to cross them. We soldiered on. We convinced each other that this was not a race, as I looked at the floods I thought maybe a boat race, By now it was 4.00 p.m. in the afternoon and we should have been at our destination in Portomarin. We were 10 km out. It had taken seven hours to walk a distance normally covered in three and a half. What Chape Ryan would have called a 'wake' sun came out, had a look around and went back in. The rain eased and the storm was downgraded from a biblical deluge to a tropical monsoon. Then I heard unmistakable cultured Dublin accents in the distance and around the corner came Lucia, Kate and the irrepressible Aoife. We raised each other's spirits and had a go at the blackberries glistening in the hedges. Then we hit the 'wall' 5km out. We could see Portomarin down in the misty valley but we knew we still had 5km to go. When I bring our six grandchildren to the shop I march them in a military formation otherwise I could never control them. A straight line and Col. Haiti's Elephant Patrol from the Jungle Book does the trick. Lucia, Kate and Aoife lined up, I fell in behind and sang:
Hup two three four
Keep it up two three four
Hup two three four
By the ranks or single file
Over every jungle mile
Oh we stamp and crush
Through the underbrush
In a military style!
Ho, we stumble, groan and sigh,
For Spain, it's all for CRYl
Our Camino to fulfil
Over road and hill
In a military style
It did the trick until we approached the bridge at Portomarin, a town that once resided in a deep valley. In 1962 the valley was flooded and everything was inundated to build the Belasar Resavoir. New Portomarin is now atop a steep hill and all the residents were rehoused there. The only exception was the church which was taken down stone by stone and rebuilt on top of the hill where is dominates the town square. If you look closely you can see the stones marked 'No 65 and No 66 etc.' where they were rebuilt like Lego. The bridge crossing the river was very high with the water far below and you can still see some of the flooded houses. Some of our group suffer from vertigo and the bridge was a challenge. It is 100ft. above the water and to look down and see some of the houses below under water is staggering and does cause a stagger! But we make it across without any vertigo casualties. For me the challenge was the steep steps up part of the old bridge which we had to take to get to the town. There are 100 in all – vertical – straight up. We had walked the 23 km, should we hire a taxi ?- Yes - no! The spirit was to walk. A taxi??? – We fell about laughing – what would the gang say if we pulled up in a limo which had taken us the last kilometer?
We struggled up the damn steps and marched on until we came to the town centre. The vanguard was waiting at our hotel opposite the cathedral of San Juan, Beers were on the table and cheers went up from all. We had finished the first day's Camino on foot. After we all tidied up and got ourselves back to some semblance of order, we sat down to dinner. A bit surreal – everybody was bushed and they put us in a dining room with a long banquet table to seat maybe sixty. They stuck us at the end but after the standard hake or pork we all had a glass or two of wine, a beer or two, a yawn or two and we drifted off to bed hoping to have the sleep of the just. There was a festival in the square with a huge gig rig.The music kept all awake until 2 a.m. Then it stopped – thank God! Ten minutes later on came the Galician Imelda May . She sang rock a billy in Gallego for an hour.Fitful sleep 3.00a.m. Up at 6.00a.m. for day 3.
Reflection: The rain today was biblical; if Noah had been around he would have been cutting down trees to build an ark. The story is told of Noah who had sailed in the rain for forty days and forty nights. He was drifting past Carrantuohill which had water up to within three feet of the summit. As he sailed past he saw a local Kerry man sitting on the peak smoking a deaden pipe. He waved at Noah and shouted 'Soft day sur'. I walked the Camino Ingles (English Way in Ano Santo 2010.) It was 40C in mid July over the Galician mountains. Today was harder.
Day 3: 'X' marks the spot. Portomarin to Palas del Rei.
The Quinta Brigada were up and ready to march on Palas del Rei at 0700. After a breakfast of Galician 'singles' cheese, ham, hot milky coffee, luxurious marmalade and fossil bread we gathered in the lobby waiting for the whistle to go over the hill. We all packed raingear for what turned out to be the hottest and sunniest day on the Camino. Maria did the briefing, with the address of our next hotel, and we were off.
We formed a line and walked down through Portomarin, crossed the footbridge over the river and made our way up into the dense woodland and onto the Camino track. We then walked on beside the main road, crossed it a couple of times near the Fabrica de Ladrillos (Tile Factory ) and on past the Coren fertilisr plant in Toxibo. I wondered if toxibo was Gallegan for poison. We diverted off the to a side road an on to Gonzar and Hospital – traditional villages very much as you would see in any country setting. Many times, throughout the Camino, it was remarked how like Ireland it was. By now the line had strung out and the greyhounds had vanished from the traps and were long gone.
John and Martina broke away too. Martina making good progress despite having two huge blisters on the balls of her feet. Today will be a bitch 25km uphill – according to John Brierly, an expert of the route, it's more like 29km as he make allowance for degrees of difficulty uphill etc. We are all in damp foot wear but the weather is magnificent and there are crystal sunny views over farmland as we climb through Monte San Antonio, have our coffee break and move on swiftly to our lunch at Venas de Naron at the 13km mark – half way. I was walking with Aisling. She is sister to Marie and Aveen, They walk in pink lycra and we can see them down the track for a distance as they walk away. Aisling refers to them as her ugly sisters – they are far from it – but the short story that as the youngest she was delegated responsibility for both when they came to Sunday lunch with their new husbands. Aisling works with Blood Transfusion Service, which could come in handy if I need a free sample'. As she walks with me I begin to realize that she is making sure that the Senor Citizen del Groupo (me), does not fall down a mountain. She's looking out for me. I regale her with yarns and she is the best of companions, she listens and laughs at all the punch lines.
She would carry on ahead and then wait at a hilltop until I turned up. Today I met a young Slovenian girl called Nena. She had stated out from Pamplona. She was walking up to 35km per day, pack on her back and staying in Refugios at night. She had never met an Irish person before and was surprised that I knew where Ljubljana was – I explained that I was a travel agent – she smiled and nodded. We walked up a steep hill together and as we approached the top Aisling was waiting. Nena was about to get her first taste of Irish humour. Aisling shouted. 'You're a nice one, I couldn't let you alone for five minutes and you are off with some young one'. Nena asked 'Is your wife cross?' I said 'I don't know'. 'Oooohhh' she said 'I think she is cross'. 'I don't know' I repeated 'Because she's at home in Ireland' I introduced her to Aisling and they walked off together chatting, leaving me jilted at the top of the hill.
As we walk through the villages we pass mostly stone houses and outhouses for cattle, some in disrepair but it looks like locals concentrate on the land, good food and drink, family and each other. If the barn sagging a bit or the dry stones wall is a bit bockitty so what? Most of the farms have large Horreos – brick buildings high on six slabs of concrete sometime shaped as mushrooms (something to do with fertility) These raised barns are sealed and are used to store corn for the winter. They people seem not be as friendly as those I met on the Camino Ingles in 2010. Then I was invited into houses and fed and watered. Everybody I passed on that Camino waved and wished me Buen Camino. I suspect that given that 1242 people walked the Camino Ingles in 2010, and 144,658 walked the Camino Frances, the locals would have a pain in their faces wishing pilgrims Buen Camino. It must also be said that the Camino Frances is far more commercialized with accommodation, bars, hotels, refugios and all sorts of ancillary business activity, supported by the thousands who walk it.
We are climbing through pine forest now with some eucalyptus on the edges. The pine and oak are native but the eucalyptus was brought in for the timber industry. Thousands of acorns crush underfoot. The weather is beautiful and the view is magnificent. The air is clear and the only smell is that of pine heated by the sun. Leg muscles begin to strain and whinge and beg for a sit down. I have the oldest calves in the group and I have two of them so the mental complaining is doubled.
At 720 metres high we reach Sierra Ligonde and still have 13km to go but it's all downhill.
FORTITUDE! A good word to apply to our group – no complaints, no moaning, no bitching. We have a common bond to drive on to march on Eirexe and capture Palas del Rei before nightfall. We pass Valos, Mammuria, Brea, Rosario -all quaint farming villages. As we approach a corner in the village of Portos we hear screams. Then around the corner comes Kate, Aoife and Lucia running at a panicked trot. 'What's up?' Out of breath they announce 'Wild animals stampeding down the road'. I know from experience that there are bears and a few wolves in the remote mountains in Galicia, but I was mildly surprised and then amused when a farmer ambled round the corner gently urging his three cows to stop grazing on the verge. 'Quel dia tan bo' (What a grand day) I greet him in Galego. 'Enviado do ceo' he replies (Sent from Heaven). We could be in anywhere in Ireland passing the time of day with a local farmer.
The Camino is relatively crowded. Last time on the northern route I saw no one for the first two days. Time to think, time to reflect, time to remember. Today we have to say 'Perdoneme' (Excuse me) to ask bunches of people to let us pass. For a while the Camino takes us onto the main road. A dangerous place with huge trucks, busses and fast cars barreling past at speed. The way marks, with their Camino shells, point us back onto the track. We are 5km out – THE WALL! The outskirts of Palas del Rei are marred by a large rambling industrial estate – civilization? We stop at a fuente (fountain) maintained by local people to supply pilgrims with fresh, cold, clean water. We fill our bottles and trudge on. 'Ice Cold in Palas del Rai' is the spur
Our instructions for finding hotel are sketchy. ''Pass the church, go down steps, cross the main road several times and back. Then enter the town'. By now we are in the town. 'Cross main street'' As we consult the back of the page for more information we find there is no writing at all. We are at 'maps end' and no X marks the spot. Then we hear John's Tullamore tones, added to by Marian's dulcet Ringsend drawl. They are waving madly down the street – outside our hotel- and they have ice cold pints lined up on the table.
There was a contretemps at dinner that evening. It began easily enough. There was a mini mutiny when there was no butter or water on the table. Marian solved the butter problem by going out to a supermarket and buying a tub of Spanish 'I Can't Believe It's not Mantaquilla' butter. After mild protests the hotel staff came and gave each of us pat of butter and a bottle of water. Things got a bit heated when they asked for payment. Managers and owners were summoned Lucia stood up to them. The butter tariff and the water levy were dropped but then there was a suggestion that fifteen drinks at the bar had not been paid for. Now Spanish bars have a wonderful trust with patrons. Unlike the beer and dart boutiques in Ireland, they serve your drinks, they count up the receipts, tally the tab and you pay at the end of the evening. That afternoon we were seated outside and when drinks were ordered we paid at the bar each time. No receipts were issued, so allegedly none of us had paid. Toys were thrown out of the pram. Eventually, as the discussion ebbed and flowed, Ebbs won and the spurious bill was written off. In protest we staged a mass walk out and adjourned to a bar across the road and had a whale of a sing song. Marie and Aveen sang as Gaelige. Sally and Aileen sang some old Irish ballads, I chipped in with 'Take it to the Limit' and hammed it up for 'The Man from Perth' when a Dutchman sang Summertime in a whisper. Still in bed by 11.00. The cocks would crow at 6.00 a.m. Well no they wouldn't. We had noticed that Galician cocks began crowing around a quarter to eleven when we had three hours walking under our belts. They would begin with a mangy croak like someone who had smoked 60 Woodbines the previous day. It came out like 'Waaaaka waaaka aheh ahuh do' making me feel like saying 'God bless you'. They would not do a proper cock crow until about the fifth or sixth attempt
Day 4. '12 Beds to sleep 24 ?' : Pedras del Rei to Melide.
By all accounts this was going to be a doddle – and there is much joshing about this. ' We'll run it' 'We'll walk it all backwards',15km and most of it downhill. Pedras del Rei elevation was 560m and the highest point en route was 515m – that's downhill isn't it? Hmmm we'll see. We depart in the semi dawn, the sky lights up and the sun rises like a shiny brass disc. We pass Centro, crossing the busy N547. Huge trucks and lorries trundle down the road and you have to watch out if you don't want to become Camino road kill. The way mark points us onto a path over the River Ruxian. Here Herreos proliferate.
We climb up into thick woodland – wait a minute was that 'up'?, what happened to down?. Classic Camino villages pop up along the way– San Julian do Camino is the first, as we approach the old Roman bridge over the river Pambre. A ' X' in Galego is pronounced like 'ch' or 'sh' so Xulian comes out Chulian or Julian in English. This village has historic links with Saint Julian, hence the name. Legend has it that he was a soldier who killed his parents by accident. To do penance for his sin he founded a hospital for pilgrims. Tradition has it that he was visited by an angel who granted him a divine pardon. There's only a couple of kilometres between and villages along the section, so it's easy to stock up on water and food. The hairs on the back of my neck begin to rise shortly after we walk through Casanova (Translation : New House) nothing to do with yer man in the silent movies, and we see that the waymarks are now showing the distance, not FROM Sarria, but TO Santiago de Compostela.
Much of the walk is now in the shade and pine gives to oak and eucalyptus forest with that heady smell. Before Melide we cross a medieval bridge over which spans the river Furelos and on into the village of Furelos. The village still has a medieval air in the centre is the Church of San Juan beside this a pilgrims hospital was once located. Another climb mocks the calf muscles. The outskirts of Melide are modern suburbs and we pass what is reputed to be the oldest 14th. century stone cruceiro in Galicia. The sign says Jesus crucified and Jesus glorified. The actual cross has Jesus with a frown on one side and he is laughing on the other. Melide is a busy market town which has a long history with the Camino. In the middle ages there were 100 families living here, most were innkeepers, and there were four large hospices for pilgrims. One hospice had 12 beds to sleep 24 pilgrims – 2 to a bed was typical.

Day 5. 'Cuck a doodle dooooo' : Melide to Arzua.
Awake early – toes infected – walking in wet boots is not a good ides -enough said. I'm depressed. Got dressed. Went down to breakfast. Broke the news. Everybody is sympathetic. The walk must go on and as I wave the gang 'Buen Camino' I silently curse my wet boots. Last time I walked the Camino I never got a blister or a pain or an ache. Maria takes me to the hospital at 8.00 a.m. The service is superb. I show my European card and am seen immediately I feel sheepish sitting with rugged, lined faced, rural, cloth capped Galicians, all dressed in black and wearing strong anti cow dung boots – and that's just the ladies. I chat to them in Spanish and as much Galego as I can. As soon as I mention the Camino their canyon lined faces soften and I hear 'Buen Camino Senor.' Not bad considering I am an estrangero jumping the queue.
The doctor sees me - gives me a tetanus injection – dresses my toes – writes a script for antibiotics - tells me not to walk for a week! With respect, I know that part of her advice will be ignored. I intend walking into Santiago on Friday even if I have to use a Zimmer frame. The whole visit including the tablets cost €9.25! Leo Varadkar please note. This is in a tiny hospital in a small town in the middle of nowhere.
While my Camino companions are on the road, I plan to overtake them by taxi to Arzua and be there to welcome them when they arrive. The taxi arrives and he kindly takes a few diversions on to the Camino to see if we can find the gang. The driver tells me that there is a €500 fine for driving on the Camino except in emergencies, so if the police stop us I should lie down in the back seat and moan!!! I am seriously adding to me technical Spanish talking with this taxi driver. No luck finding the crew they must be strung out along the path. The drive to Arzua takes 18 minutes – the same distance on the Camino would take at top speed with a break 3 hr 30 min., at leisure 5 hr 30 min. After check in, I try again to dry my boots but to no avail. It a beautiful day, the sun is splitting the rocks and is shining out of a Child of Mary blue sky.
I set myself up at a table on the patio at the front of the hotel and begin to write this blog. Coffee and two Spanish 'Do-nuts' are placed in front of me. These are sugary and deep fried and bring back memories of holidays in Benidorm when the kids were young. I hadn't the heart to tell waitress, Penelope Cruz, that I am diabetic. So I thanked her and dived in. I began the blog. So try and picture the location in the middle of Galicia with the sun beating down, burning its way towards high noon. Do you smell the coffee, taste the finger lickin' do-nuts and feel the heat rising off the pages! It was so hot that even the birds had stopped singing. One last really lazy cock called out from a distance 'Cuck a doodle dooooo' (Translation: I'm up at the crack of noon!).
I took out my map to try and judge where the Quinta Brigada might be. They left heading west past Igrexa Santa Maria de Melide built on the xiith century. On by the cemetery and up into the woodlands of the arroyo of San Lazaro. The uphill trek would be more difficult. The flat maps might indicate there were several dry river valleys here but they were still flooded and muddy from Sunday's rain. It would be noticeable that the terrain and the forests were changing. Native oak and chestnut had been replaces by pine and eucalyptus. Coffee and maybe a light lunch was planned for Casteneda but first the Boente valley via the underpass had to be traversed. Morning break was at Boenete where there was shade from the midday sun. Castenada has an interesting history in that it was here the peregrineos used to bring limestone rocks from the quarry at Triascastela.There were fired and ground down to make lime for the building of the cathedral at our destination – Santiago
Just as I was about to write the above, I was amazed to see John coming up the road. I looked at my watch it was 10.40 a.m. I had barely made it before him – by taxi! John had experienced what many Camino walkers feel on the 4th. Day – a type of euphoria that makes you feel like you could walk to San Francisco, Cape Town or Vladivostok. He wasn't even out of breath. He still managed to knock back the pint though.
Day 6. 'Supercharged tractors': Aruza to Amenal
I got up, gammy toes and all, and waved the Quinta Brigada off on the on the route from Aruza to Amenal. The small hamlet of Amenal was literally in the middle of nowhere and it was a 21km trek. This distance would allow for a shorter 15km walk into Santiago tomorrow.
Aoife's instructions from Maria confirmed the 21km walk and Maria estimated that it would take 5hr 15 min. Their destination was best remembered by noting that it was 5km after Rua O'Pino – and they had to turn off just before the road to Lugo/Santiago on the Camino itself. Camino tradition allows for 'going astray' but never admits to getting lost. Aoife,Aishing and Lucia made their own way along the Camino in good order. It was the first morning they had all headed off together On their coffee break they came across this place with all the t-shirts hanging from the ceiling and a guitar and an Irish flag in the window. My thanks to Lucia, Aileen and Aoife for the photos which are attached to this blog.
They also walked behind the backside of two horses which was inspiring. It's a good theme for a song:
'City girls just seem to find out early /How to walk behind a horse's ass!'
They finally made it to Rua and met a Cork woman and her daughter in the tourist office. Aoife was having her "Francis Brennan" moment waving my hat around to muster the troops and attract attention. For local colour they met the post man, saw a woman washing her windows and bumped into the cherry picker.
They walked the last few kilometres with Maria and took all the right twists and turns. But when they arrived in Amenal the rest of the group told them that they'd come up the motorway and it was fairly scary! The traffic was murder with juggernauts, Formula 1 Racing drivers, Supercharged tractors and guys on 1500cc motorbikes all jockeying for position with the peregrinos, who had to practise jumping into and out of the hedge to avoid vehicular assassination. They realised they'd taken a wrong turn somewhere, while the last few kilometres for the famous four was through forest. It was a beautiful walk which took them right up to the hotel which was pretty spectacular! They had made it to Amenal – where they were split into two hotels – half of the group walked the main road into the hotel in town! The following morning they had the joy of doing the extra 3km compared to the rest of the group and it was all uphill – TORTURE.COM. We all waited for the last four to arrive at the Hotel Bello. We were getting worried as they had well passed their deadline. Finally they trooped up the roads laden with bags – most containing shoes!.
They had gone shopping in Pedrozo.!!!!. It was understandable. They had seen a shoe sale and who could resist a pair of boots for €137. A complete steal. As they say on television. You all know who you are!.
That evening we had the best dinner of the trip. A special treat took us by taxi inland to the interior farmland of Galicia – to a Casa Rural. The Cara Rural, as the name suggests was a old fashioned rambling house which is still lived in and is the focal point of a working farm – but resembles a scene from The High Chapperal. We are shown around the house: The bedrooms with intricate lace curtains, and oak beds, the huge sitting room with an enormous fireplace. It gets cold here in the winter, The kitchen where the only gadgets are hands and fingers! And then to the dining room, where are served a delicious home cooked meal.
Beef stew made from beef which comes exclusively from cattle of the Rubia Gallega region. These animals with robust, strong frames, thin skin, short blond or cinnamon coloured hair, are raised primarily for their delicious meat. Pulpo (The famed Galician Octopus): Cooked in large pot of boiling water until soft and then roasted. Most of my companions declined but they don't know what they missed.
Fish : Hake and cod - not the variety we ate during the week. This was hearty and hot as hake stewed in fish stock with Cayenne pepper could only be. I opted for Galician Ham hock. Boiled until tender then drizzled with honey and roasted. The colour of this meat varies from light pink to light red. It stands out for its intense, taste and for being extraordinarily tender, juicy and succulent. Magnifico ! Just like at home. Then there was desert of sweet smooth custard or Creme Caramel and red and white wine which came from grapes in the back garden on bottles with no label. The flavour ? Harsh is too harsh a word maybe robust is more appropriate. What a treat. We waddle out full!
Day 7: 'The Right to be a Pilgrim': Amenal to Santiago
I took the taxi to Santiago asking the driver to circle south of the city so I wouldn't see the spires of the cathedral.
I had promised myself and my 14 fellow peregrines that I would walk into Santiago with them – together we would see the first glimpse spires of the cathedral – it was a moment that I would not miss. The driver dropped me at the back door of the accommodation – The Monasteries Hospedería San Martín Pinario.
What a beautiful medieval building. It is situated in front of the Santiago de Compostela Cathedral and has taken care of pilgrims for five centuries. It has been completely refurbished today it will host the 15 CRY pilgrims. This is high level, yet simple, comfort and is a luxury which is in stark contrast to the more modest rooms on the Camino. Its location alone is a wonder and the fact that our rooms were those originally built in the Monasterio – though updated with all mod cons – it is a privilege to stay here – to actually live in an xvth century monastery. It is an unforgettable way to end the walk on the Camino. The rooms are small but have all amenities. There is a cloistered sunlit garden in the middle of the building, a communal restaurant serving authentic Galician food and drink. It is surreal to be lodging in building like this as pilgrims have done for six hundred years.
By this time the group would be about half way down the Camino on the last lap into Santiago and I resolved to walk out towards them to meet them a join them on the walk into the city. I got a map and left the hotel heading for the outskirts of the city. I had strapped my foot. Admonished my toes, and put on two pairs of socks and as I walked I was amazed I had no pain. I move into 2nd.gear. It's a beautiful day. 3rd. Gear. Into the suburbs. I make my way out of the city passing the beautiful church of San Pedro and passing outward through the Porto del Peregrinos. When you walk through here you experience an intense personal realisation of becoming a pilgrim.
I rang John and he told me that the group was at Monto Gozo climbing to the highest point on this section of the Camino. I had it on my map. I moved into 4th. gear and walked on. I reached the Rua Berlin which is a crossing point for all pilgrims walking into Santiago. I called John again and he told me that he and Lu were walking towards me. 5th. gear ! I am now out in the countryside and I go into overdrive. Then up the hill in front of me I see Lu and John. Much abrazos - Spanish hugging. We make our way back to a restaurant where everybody else is gathered. Marian shouts a welcome in her Dublin accent and goes back to gabbing. She later admits to me that I am the first person she has met who talks more than she does.
Marian and husband Michael Finn had 5 sons. Andrew was the second eldest son he was married for 18 months to Nicola and she was expecting their first baby. Andrew had bought his house in Portlaoise and life was good On the morning of his death Andrew had a swim early and played a five aside as he was on a 3 day week He then went home and cut the grass. He rang Nicola his wife who was staying in Finglas that night and put his feet up to look at telly and have a beer. That is how he was found the following evening. Television still on and the remote still sitting on his chest. He just fell asleep. Andrew died in April 2010 and his son Cillian was born in September. When Andrew died the Icelandic volcano dust was falling and so all flights were cancelled. This meant that his brother Padraic and girlfriend Sarah who were living in New Zeland were delayed in getting home for the funeral. His other brothers Sean and wife Megan and youngest brother Conán who live in Atlanta were also delayed.Nicola would not have the funeral without Andrew's brothers being present.Cormac was the only son at home. He too had been living in America but had returned home 2 months earlier. Andrew was 28 when he died and life has never been the same since for all of his family – something the rest of us understand well.
Marian and her sister Rosemary are much travelled and have been round the world in style. She tells a great story of being on a dude ranch in Utah and she was disgusted with the place because the whole state was 'dry' – a complete ban on alcohol. They were out horse riding on the plains with a hunk of a cowboy/guide. Marian speaks her mind.
'Hey why have ye no bars here' she complained. 'Oh we have bars here ma'am'. John Wayne replied. 'Great lead me on.' Marian replied. The Duke continued: 'We have grizzly bars, black bars and brown bars......' Rosemary smiles at the memory and continues knitting, something in pink.
Aileen and Sally are having lunch, Aileen is cracking jokes and hopping balls and Sally is enjoying the performance.
Sally lost her daughter Debbie, who was a Ryanair stewardess. She called her mum one morning at 10.50 saying she had a pain in her chest. Sally told her to relax but she called back at noon to say it was worse. Sally told her to call an ambulance and for two hours Debbie's phone was going to message. It was answered at 2.05 p.m. by a nurse who when she had established who Sally was told her that Debbie had died five minutes earlier. Sally friends Aileen and Lu who are walking with us are a great support to Sally and all three have raised huge sums for CRY doing car boot sales and many other projects.
I join Aveen, Marie, Frances and Aisling. 'Did you miss me?' I ask her. She shrugs, says 'Huh – as if !' Frances who is an Image consultant sits with us. She is a friend to CRY. Frances worked with Michael Green CRY Chairman and became friends with Lucia. When CRY was founded Frances helped to promote the charity – at events like the Mini Marathon. She also served on the ladies committee and is a tireless supporter of CRY.
Marie's family take a very keen interest in CRY as they are close personal friends of Michael and Marie Greene and were so saddened for them at the loss of their son Peter, who passed away so prematurely. They were so impressed at their action in setting up the charity CRY, such a positive way to help other in their grief. Their family then lost brother in law Tony to a heart attack at the age of 48 leaving two very young children three and five at the time and a heartbroken wife behind. Marie says 'We were all very affected by the trauma of sudden death on a family and the support needed to get through the grief.' She adds: 'It was a wonderful experience doing the Camino for such a worthy cause and to be privileged to share a very personal journey with five families who had lost loved ones'.
Kate, Aoife and Lucia are looking at Aoife's photos and John and Martina are chatting quietly. Lunch is finished and we hit the road for the last lap – Santiago is just over the hill. We are all wearing our CRY Tee shirts: CRY CAMINO 2014 – That's us!
After the Rua Berlin it's mostly downhill, through the suburbs. We group together – a phalanx - to walk together through the Porto del Peregrinos – The Pilgrims Gate. This has a profound meaning for walkers, it's where we each get the mental image that: 'I am a pilgrim' - a pilgrim who set out with a goal to walk the Camino Frances. To walk to Santiago de Compostela, to remember and honour one who is now gone never forgotten. To support and spread the word about Cry. To remember family, friends and the many who made this journey possible.
Our Conor loved to play guitar and sing, and as we enter the old town, I am reminded of the words of Leonard Cohen's ' Anthem'. A song – a poem really - that's apt for our valient band.
The birds they sang at the break of day / Start again I heard them say
Don't dwell on what has passed away / Or what is yet to be.
Ring the bells that still can ring / Forget your perfect offering
There is a crack in everything /That's how the light gets in.
As we walk together through the Pilgrim's Gate. It's a message of sad reflection but with a powerful message of faith and hope for all fifteen of us, who have walked the dusty and sometimes muddy track of the Camino – a urging to appreciate and celebrate our family, friends and those around us. It's a compelling philosophical message as we walk down the dark streets of old Santiago. The spires of the cathedral hove into view and we all stop and celebrate as if we had won the Lotto. We ring the bells that still can ring!.
But while reflecting on the sad loss that has brought us all here, it is no excuse for us to give in and buckle to the most shocking experience, the most unnatural thing that can ever happen to any family – to bury one of our children.We all have our own own personal responsibilities towards ourselves our lives and loves. And fear of the future is no excuse for an abdication of our responsibility to our family and extended family – Don't dwell on what has passed away or what is yet to be – move on but never forget.
So ring the bells that still can ring": Our famililies and our friends. 'Forget your perfect offering' or perfect solution . The Camino and Santiago is not the place where you make things perfect. Everything is imperfect.
There is a crack in everything. Buildings, mental goals, physical objects, any constructions of any kind. But it's through the cracks that the light gets in, and is by walking the Camino we fifteen pilgrims are confronting the brokenness and the darkness that has come into our lives and rather than going round it, we go through it and
Ring the Bells! Spike Milligan said "Blessed are the cracked, for they let in the light"
We take the last few steps on the Camino and we emerge into the sunlight at Obradorio Square. 'We've made it' There's a lot of hugging and dancing and celebration. Sheer euphoria. It's all very emotional now that the walk has been completed. Like ET, I call home and it's only then I realise that we are finished the Camino and in Santiago. I was so l wound up I couldn't stop talking about it.
Santiagio is a beautiful city, lots of parks, cobbled streets, of course, lots of magnificent old medieval buildings. It's a UNESCO designated heritage city. It was destroyed by the Moors at the end of the 10th century, but it was completely rebuilt in the following century, it has Romanesque, Gothic and Baroque buildings. It had long been of major importance from medieval times, being second only to Rome, as a place of pilgrimage. Thousands of pilgrims carrying the scallop shell and the pilgrim's staff for centuries walked to the Galician sanctuary along the paths of Santiago, which for them became 'roads of faith'. Having walked the Camino, and seen how difficult it could be, I marveled at the thousands who had walked it for 1000 years, and how they managed it without any modern conveniences, communication, clothes, footwear or lodgings available now. It is a testimony to them and the people of Galicia that they survived and spread the word. I didn't realise it until I got here but I now know that we are at one with all who walked to one of Christianity's greatest holy cities.
We plan to go to the Pilgrims Mass at 7.30 p.m. this evening and we all set off together at 6.30 p.m. so that we will get good seats. The Cathedral is just across the square from our accommodation and there are good seats a bit from the back where we will be able to see the altar and be in the path of the Botofumeiro as it swings back and forth over our heads. Slowly the cathedral fills up so that there are crowds backed up on the steps inside the door, all seats are gone and there is crammed standing room only in the aisles. The mass begins. The celebrant speaks in five languages as the mass gets under way. After the Gospel we are asked to be seated the priest welcomes pilgrims from afar. To our surprise and delight he has a special welcome for the CRY Group from Ireland. He spoke in Spanish and called us 'Cree' but we knew what he meant.
Una bienvenida especial al grupo de peregrinos que han caminado el Camino Francés desde el Grito Caridad (CRY) en Irlanda que apoyan a las familias de los jóvenes que han fallecido de muerte súbita.
''A special welcome to the group of pilgrims who have walked The Camino Frances from the Charity Cry in Ireland, who support the families of young people who have died from sudden death.''
The church is thronged by but we have a clear view of the altar and the Botofumeiro which has been lowered from the ceiling and is being loaded with incense which is put in a metal container, or 'incensory' and lit in preparation for its flight above the congregation.
The Botafumeiro is the famous thurible or incense burner which is used in the Cathedral. It is of Galician origin and is made in an ornate fashion, the same as any incense burner, except that it's the size of a dustbin and six strong men shovel burning coke and incense into it and get it swinging by pushing it to and fro across the sanctuary and gradually pulling of the retaining rope, which is suspended from a pulley mechanism in the dome on the roof of the church. The current pulley mechanism was installed in 1604.
This iron man feat goes on until the Botofumeiro swings at great pace above the congregation. It streams incense smoke which billows from it making and jet trail through the church. It is a stunning sight and the heady smell of the incense adds to the solemnity of the ceremony. All fifteen of us sit transfixed. 'Botafumeiro' means 'smoke expeller' in Galician. The present Botafumeiro is made of an alloy of brass and bronze and is plated in silver, but it has a golden sheen from the lights and now flies over our heads with a great swoosh and expelling a pall of smoke. It's the largest censer in the world, weighing 80 kg and measuring 1.60 m in height.
As the Botofumeiro swings the choir and congregation sing The Hymn of Santiago. A haunting melody in that unique Spanish singing style. It rises and falls in synchronisation with the spectacular swinging of the Botafumeiro. I look around and pilgrims including our fifteen all gazing up in amazement at this unique sight. Some instead of looking up, have their heads bowed, some are overcome by the emotion of it all, the end of a journey, the reasons for walking - perhaps the challenge now over, or the grief of loss they feel and they silently cry. The cadence of the hymn falls:
I silently read my list of names and remember all who have made this moment possible.
The tenor of the hymn rises: I have learned it in Spanish since last time I was here.
Quien así me cercado /con historias tristes
No, pero sí confunden / mi fuerza cuanto más es.
No hay enemigos permanecerán mis fuerzas
aunque con gigantes pelean, / Pero voy a tener el derecho
Para ser un peregrino!.
Who so beset me round / with dismal stories
Do but themselves confound / My strength the more is.
No foes shall stay my might / though I with giants fight
But I will have the right / To be a pilgrim !.
As the last verse of the hymn die away, the pilgrims jostle forward, all in good humour, to attend communion. This is a solemn religious service and yet there is a carnival feel to the whole scene. We stroll up to the altar which is bathed on sunlight streaming through the high stained glass windows and shining through the thick swirling blue incense. Beside us people are singing and chatting and there is a loud buzz of noise. We have a wonderful farewell dinner in the Monastery that evening – it was to be our farewell dinner. Next day we all do some shopping in the morning and head for the airport in the afternoon to fly to Dublin.
It was a unique and moving experience to walk with fourteen strangers who became friends, We had a common bond to walk to Santiago and remember those who can no longer be with us. We walked in their shoes. We made it.
Grazia a deus
The Church at Portomarin which was removed stone and rebuilt on a hill when the valley was flooded to form the Belesar Lake

The 100 steps which begin the Camino in Sarria. 100 more steps to new Portomarin
Just awalkin' in the rain on the first day
Sally takes a moment's break at a typical Galician cemetery- made up of crypts.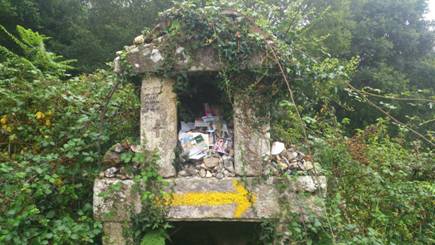 A memorial on the Camino
Sally and Lu wave as they greet arrivals
Aveen, Marie, Aisling, Kate, Lu and Aoife in the Casa Rural

The Gate to Santiago
Brendan at the dinner in the Casa Rural
The 'Harriers' Marian, Lu, Aileen and Sally on the Camino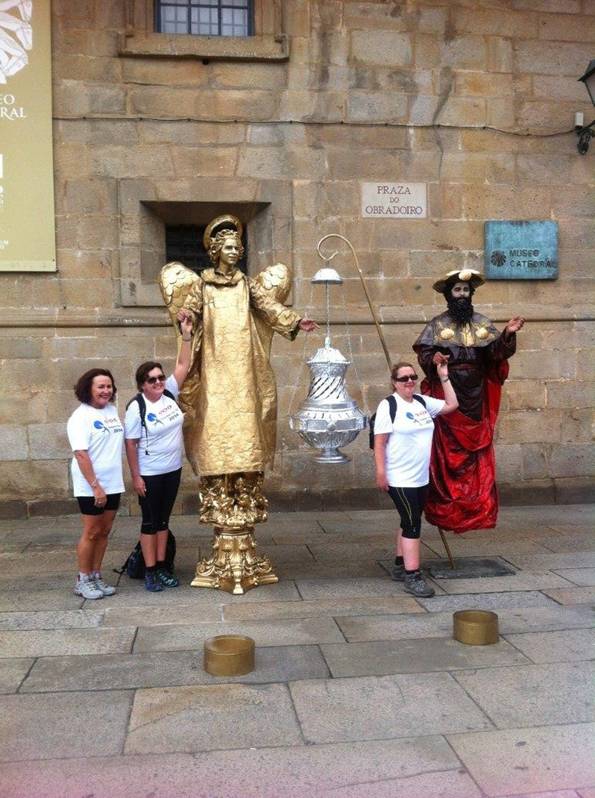 Sisters: Aveen, Marie and Aisling with the mime artists in Obradorio Square

Aisling and Brendan in the backround , marvel at theflight of the Botofumeiro

Arrival in Santiago
CRY Camino 2104
CRY would like to thank Brendan O'Mahony for writing this beautiful piece for us and all of the participants of Camino 2014. If you would like more information on Camino 2015 please contact This email address is being protected from spambots. You need JavaScript enabled to view it.
---