Successful 2013 Flora Women's Mini Marathon for Cry
Huge thanks from Cry Ireland to the team who took to the streets of Dublin on June 3rd in the 2013 Flora Women's Mini Marathon.  Model and TV presenter Daniella Moyles led the team of over 200 women who ran the Mini Marathon in aid of Cry. Many of the girls and women who took part on behalf of Cry have been affected by Sudden Cardiac Death in some way. It was a fantastic day and Cry were delighted to see so many familiar faces taking part again and to welcome some new faces.  
Cry really appreciate the efforts of all who chose to fundraise at this event. We met up with our supporters in Alfie Byrne's Bar in the Conrad afterwards and it was great catching up with old friends and new.  Special thanks to Greg Leonard for all his help on the day.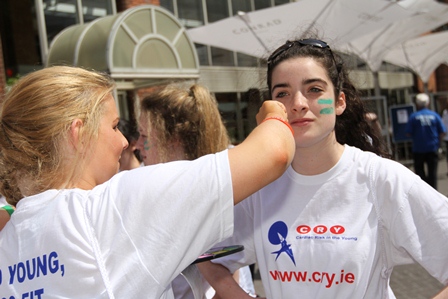 We hope that the 2013 Cry Ireland team will encourage family friends to come on board in 2014.
---