CAMINO DE SANTIAGO IN AID OF CRY IRELAND
Read More
Join CRY for what is a memorable week walking the Camino while raising money for a good cause. We have chosen a new route this year which is along the coast of Portugal with amazing views and scenery. See details below for a day by day account of what is involved.
Money to be raised per person: €1,995
Deposit needed to secure place: €250
Contact This email address is being protected from spambots. You need JavaScript enabled to view it. for more information. Lucia has walked the Camino herself so can give you a first hand account of what the week involves.
INCLUDED
• Flights
• 7 nights / 8 days / 6 walking days
• All Breakfast and Dinner (including a gala dinner on the final night)
Luggage transfer

Airport transfers

Guide included

Holiday pack, contains: walking notes, pilgrim passports, maps
NOT INCLUDED
• Water for the hike. People will be asked to purchase water in advance, or at a local shop, or refill at the hotel.
• Alcoholic drinks
• Lunch
• Travel Insurance
TRANSFERS
Airport transfers: Transfers will be included to and from the airport on arrival into a local airport
Luggage will be transported to and from the accommodation. Participants will be asked to carry day bags and packed lunches.
MEALS
All dinners and breakfast, included!
Breakfasts will be at our accommodation
Picnic Lunches - Only available on request – extra charge - €12 per person per day
Dinners will be in the hotel. There will be a gala dinner outside of the hotel on the last night.
SUPPORT AND EMERGENCY
Your guide will be assisting you 24/7, and will be in constant contact with our head office by mobile phone. He will also have a full challenge first aid kit with him during the whole time of the challenge. There will also be a representative from CRY on the trip.
DAY TO DAY
Portuguese Coastal Way – Section 2: The second section of our Portuguese Coastal Way or Caminho da Costa starts in the elegant seaside town of Baiona, in the heart of the Rías Baixas, famous for its Albariño white wine and delicious shellfish. Visit the Monte Real castle, stroll along the port and go for a swim in the bay before you start your journey to Santiago. From Baiona, you will follow the coast towards Vigo, enjoying the views of the magnificent Illas Cíes and the bay along the way. The Portuguese Coastal Way joins the Portuguese Way in the town of Redondela so you will continue your Camino de Santiago walk through the lovely city of Pontevedra, the spa town of Caldas de Reis, Padrón and finally Santiago de Compostela where you can claim your 'Compostela' certificate!
1 Baiona
Start your Camino de Santiago in the elegant seaside town of Baiona: stroll along the port, visit the impressive Monte Real fortress and taste the best of the Rías Baixas seafood and white wine before you start your journey to Santiago de Compostela.
2 Baiona to Vigo - 23km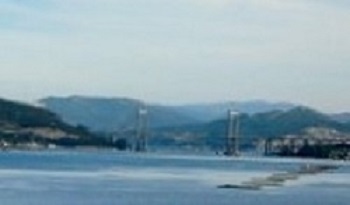 6h | +320m / -318m
Today you will follow the coast from Baiona to Nigrán and finally to the city of Vigo. You will enjoy fantastic views of the Bay of Vigo, with the magnificent Illas Cíes and its Natural Park in the horizon. On a hot day, stop at the blue flag beach Praia América in Nigrán for a quick swim.
3 Vigo to Redondela - 14km
4h | +353m / -347m
From the city of Vigo, you will continue on your coastal Camino with the Bay of Vigo to your left. Today is quite a short day so you can enjoy a more relaxed pace. Your stop for the night is the town of Redondela where you will join the original Portuguese Camino.
4 Redondela to Pontevedra - 16km
4h | +353m / -347m
Today is your last day along the coast and quite a short walking day so you can make the most of the seaside. Stop to try the famous oysters in the fishing village of Arcade. Your final point is the city of Pontevedra, with its pretty historic centre. At today is quite a short day so you will have time to explore the old town, with its many Romanesque churches and quaint granite squares.
5 Pontevedra to Caldas de Reis - 24km
6h | +244m / -241m
Leaving Pontevedra, today, the Camino will take you through chestnut groves and pine and eucalyptus woods. In the village of Ponte Cabras you will see the rectory of Santa María de Alba. At Lombo da Maceira, a statue of Saint James with his walking stick will show you the way. On your way to Caldas de Reis you will pass the hamlet of Tivo with its lovely fountain and public washing bath.
6 Caldas de Reis to Padrón - 18km
4h30 | +268m / -285m
From Caldas de Reis you will cross the river Umia and find the hot springs that have given the town its name since Roman times. The trail once again takes you to forests and gradually climbs to the village of Santa Mariña. You will continue on the Camino through pine
forests to today's destination: the town of Padrón. When the body of Saint James was being brought to Compostela by boat, Padrón was said to be the first land it reached.
7 Padrón to Santiago de Compostela - 25km
6h | +448m / -202m
Your final day of walking will take you through a number of small villages on your way to the historical sanctuary of A Esclavitude. Nearby on a hilltop sit the ruins of a fort known as Castro Lupario. Shortly after this you will see some of the oldest wayside crosses in Galicia. As you make your way towards Agro dos Monteiros you will be able to see the spires of the cathedral in Compostela. You will pass the ruins of the castle of A Rocha Vella, as you approach Santiago de Compostela
8 Santiago de Compostela
Take time to explore this gem of a city, small and vibrant. Its UNESCO listed old town will enchant you. In Santiago de Compostela you will find not only pilgrims but also locals and students, socialising and enjoying a few bites and glasses of wine in the many bars, restaurants and cosy cafes.
Contact This email address is being protected from spambots. You need JavaScript enabled to view it. to sign up today!