An ARTY Success!
Catherine Lawlor's School of Art hosted an art exhibition in aid of CRY on Saturday 12th and Sunday 13th September. The exhibition was officially opened by Dublin born Artist Alan Phelan.
It was a great weekend enjoyed by all who attended. An amazing sum of €2,550 was raised for CRY and the CRYP centre. CRY would like to say a huge thank you to Alan Phelan for opening this event, all the guests who were there on the day to support the charity and a special thank you to Catherine Lawlor and her talented students for hosting this great exhibition for a great cause.
Please see some of the photographs from the day.
Alan Phelan Catherine Lawlor, Alan Phelan and Marie Greene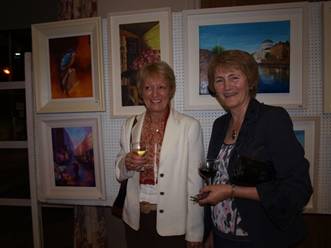 Jean Tyler and Kathleen Kenny Lavina O'Leary
Catherine Lawlor and Alan Sheppard Emer Dignam
---