"Directing" The Great Run Team
Dr Deirdre Ward, Director, CRYP Centre (Cardiac Risk in young Persons), Tallaght Hospital and partner George Nursey, business man from Top Flight are preparing for their final countdown to The Great Run which they are running in aid of Cardiac Risk in the Young (CRY).
 Dr Deirdre Ward & George Nursey at the Old St Marys Church, North Co Dublin
The dynamic duo aim to raise critical funds for the CRYP Centre. Runner George Nursey, partner of Dr Deirdre Ward recently met a number of CRY Trustees and was inspired by the work carried out by the charity and the Centre, and as a result felt inspired to fundraise.
Speaking about her involvement in the race, Dr Deirdre Ward Director, CRYP Centre said;
"If you are running The Great Run next weekend please consider running for CRY. Participating in this run and other runs means exercise is not dangerous and should be part of a healthy lifestyle for everyone.
The Centre, which officially opened last November (2008) receives no subsidies from the government, it is only funded by fundraising activities and generous donations that are required to keep the centre running. The centre aims to screen a minimum of 1,600 young patients annually free of charge. The Centre, which officially opened in November 2008, is the only full-time service in the country dedicated to evaluation of inherited heart disease and cardiac disease in younger persons.
CRY are appealing to anyone who is taking part in the Great run to run for the CRYP centre, please go to www.cry.ie
Do the Great Run for a Great Cause!
ENDS
For further information contact: Emer O'Reilly 01 668 0600/086 859 3658 E: This email address is being protected from spambots. You need JavaScript enabled to view it.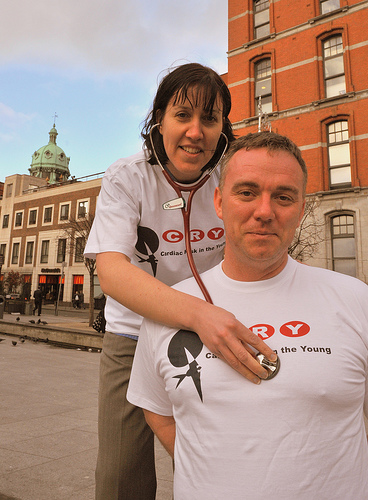 Dr Deirdre Ward listening to partners heart - George Nursey at the Old St Marys Church, North Co Dublin
---
BACK