Gavin Coyne's Story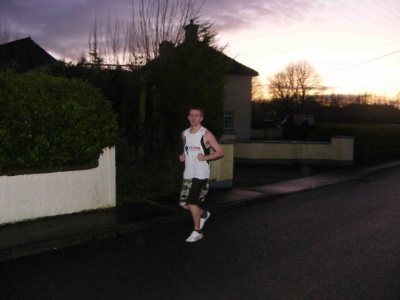 Running the Dublin Marathon for CRY – "An experience of a Lifetime"
Gavin Coyne a final year student and personal trainer ran his first marathon in aid of CRY. As a personal trainer, Gavin decided to set himself the challenge of running the Dublin City Marathon in October 08'.
Gavin hadn't thought about which charity to run for until he heard Marie Greene's story when she came as a guest speaker into a lecture in DIT. "It was an amazing in sight into CRY and really opened my eyes to the tragedy of cardiac risk."
Compelled by CRY and coming from a sporting background, Gavin approached Marie to run the Dublin City Marathon to raise awareness and funds for CRY.
Gavin began his training 4 months prior to the marathon and raised over €1000 by knocking door to door and also getting his clients in the gym to support the great cause.
On the morning of the marathon Gavin was overwhelmed at the amount of people present on the day and the atmosphere in the air. All the hours of hard work and training were almost at an end and the adrenaline was kicking in as Gavin faced the 26 mile race for the first time. He successfully finished the marathon in 4 hours and 35 minutes.
"The whole experience was such a rush and one of the best achievements of my life. I want to thank CRY for letting me represent them and wish them all the best for their future endeavors "
---
BACK